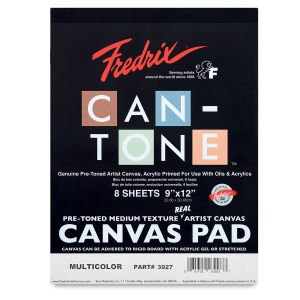 Las libretas de lona pretonificadas Fredrix Can-Tone cuentan con un lienzo artístico genuino de textura media, imprimado con un yeso acrílico de grado profesional sin ácido. Cada libreta contiene ocho hojas.
La libreta multicolor incluye los colores Cappuccino, Georgia Peach, Heather Green o Tara Grey, e incluye dos hojas de cada color. Los diferentes tonos proporcionan una superficie neutral con una superficie preparada con yeso para trabajar en óleos y acrílicos. Las hojas se pueden estirar en un bastidor o montar sobre un soporte rígido.
Fredrix Can-Tone Pre-Toned Canvas Pads feature genuine medium texture artist canvas, primed with an acid-free, professional-grade acrylic gesso. Each pad contains eight sheets. The Multi-color pad contains colors like Cappuccino, Georgia Peach, Heather Green, or Tara Gray, which includes two sheets of each color. The different tones provide a neutral, pre-gessoed surface for work in oils and acrylics.
The time-saving sheets can be stretched or mounted on a rigid support.
Tamaños disponibles:
5" x 5"
9" x 12"
12" x 16"
16
" x 20"
18" x 24"
Otros canvas disponibles:

Artistic Art Store, Inc.
calle marginal V-239
Bella Vista, Bayamón
carr. #167
Para más información llame a:
787-740-7288 ó al 787-778-3276